Michelle Wie won the Lorena Ochoa Invitational tournament today by two shots over Paula Creamer.
Let the Michelle Era begin!!!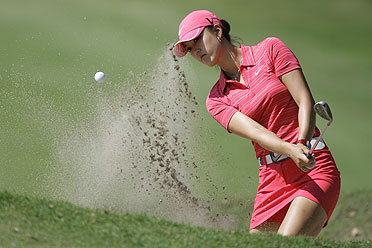 Michelle Wie wins Lorena Ochoa Invitational | Tours & News | Golf.com
The Michelle Wie era has, at long last, begun. After years of injury and controversy, too much hype and money and not enough birdies, Wie won her first pro tournament Sunday afternoon at the LPGA's Lorena Ochoa Invitational in Guadalajara, Mexico. Typical of Wie's highly melodramatic career, the win didn't come easily, as she survived a final round dogfight with a half-dozen of the game's biggest names, ultimately making five straight nerve-jangling pars and then a gorgeous birdie on the final hole to close out a two-stroke victory over Paula Creamer.

Along the way Wie displayed both her awesome talent and enduring starpower, reminding everyone what all the fuss was about in the first place. It was a deeply personal triumph, capping a period of tremendous maturation on and off the golf course.